Our tour will visit 4 areas in NY that are little pieces of Ireland in NYC.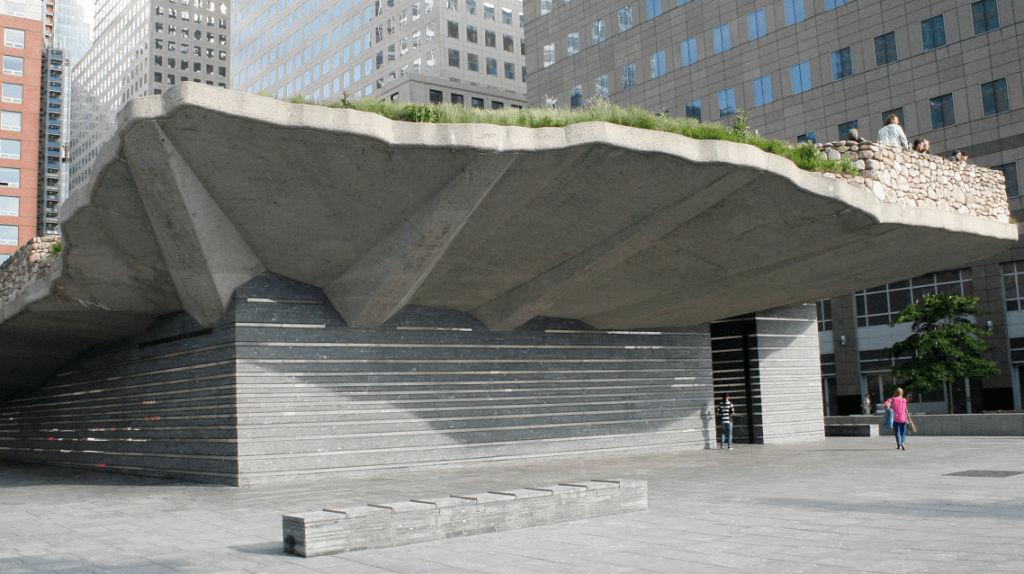 The first stop is the Irish Hunger Memorial, located on a ½ acre site at the corner of Vesey Street and North End Avenue near Battery Park City. It is an authentic 19th-century Irish cottage set on a uniquely landscaped plot, which utilizes stones, soil and native vegetation brought in from the western coast of Ireland and contains stones from all of the different counties of Ireland. It's dedicated to raising awareness of the Great Irish Famine – referred to by the Irish as "The Great Hunger" or An Gorta Mor in Irish Gaelic, which killed over a million people in Ireland between 1845 and 1852. The memorial was completed and dedicated on July 16, 2002. Many Irish families were forced to emigrate from the country. By 1854, between 1.5 and 2 million Irish had left their country. By 1850, the Irish made up a quarter of the population in Boston, New York, Philadelphia, Buffalo, and Baltimore. In the US today, there are 33.7 million residents who claim Irish ancestry with NYC having the largest number of Irish-Americans of any city in the United States.
I'll bet you are expecting me to talk about Irish bars – I won't disappoint, but before we start our traipse uptown let's make a b-line for the oldest Irish bar in NYC – McSorley's Old Ale House, generally known as 'McSorley's'. It is on East 7th Street in the East Village. Two of McSorley's mottos are "Be Good or Be Gone," and "We were here before you were born."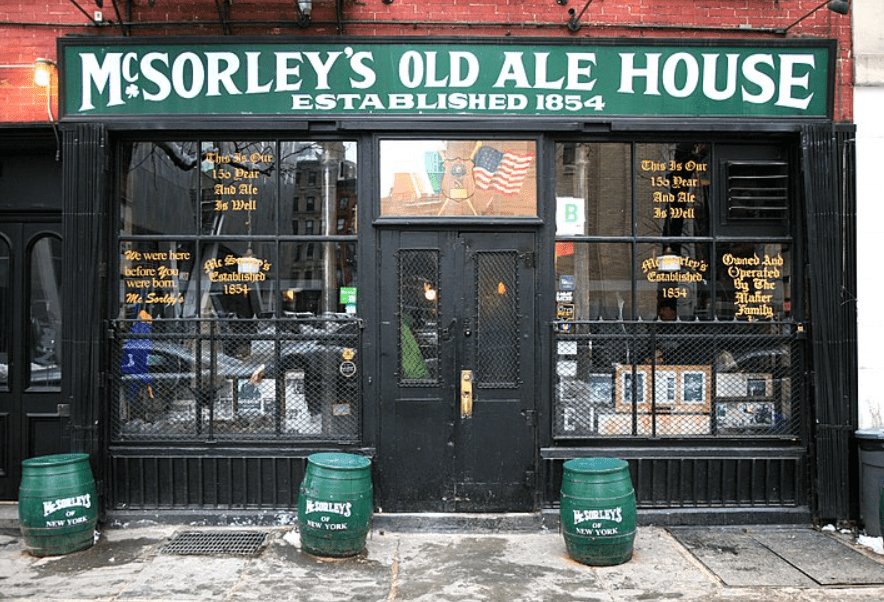 Prior to 1970, it was one of the last 'Men-Only pubs.' Another motto was "Good Ale, Raw Onions and No Ladies." In fact, Dorothy O'Connell Kirwin, who inherited the bar in 1939 adhered to this rule and only entered the bar on Sundays.
In 1970 McSorely's was legally forced to serve women but did not have to provide restrooms for them so restrooms at McSorely's remain coed. Aside from the ladies not much has changed at McSorley's since it opened – sawdust floors, Irish waiters and bartenders, and lots of memorabilia scattered throughout. There are wishbones hanging above the bar; supposedly hung by boys going off to World War I. The plan was to remove them upon their return, therefore the wishbones remaining are from those that never returned.
Notable people who have visited McSorley's include Abraham Lincoln, Ulysses S. Grant, Teddy Roosevelt, Peter Cooper, Boss Tweed, and Woody Guthrie. So let's have a pint of ale and the famous cheese platter with onions and we'll add our names to this list.
Now that we have been fortified let's head up to St Patrick's Cathedral on 5th Avenue and 51st Street. The site was originally intended to be a burial ground but was too rocky and in 1850, John Hughes the first Archbishop of NYC (an Irish immigrant) announced the plan to build a new cathedral. The cornerstone is dated 1858 and it was consecrated in 1910. Designed by James Renwick and William Rodrigue in the decorated Gothic style of the 13 century. It's considered a symbol of the success in New York of its immigrant Irish population – to get some sense of its majesty here are some statistics.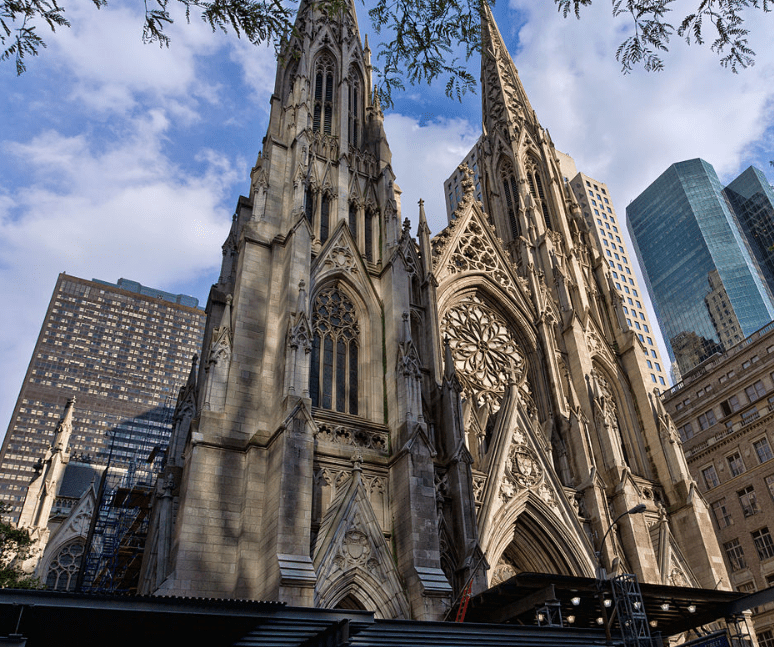 Length: 332 ft.
Width: 174 ft.
Height from the street to the top of the spire: 330 ft.
Height of the Central Gable: 156 ft.
Length of nave and transept: 144 ft.
Width of the nave: 48 ft.
Height of nave: 108 ft.
It's a huge and fabulous building!
Ready for our next stop? This time we are heading north – just about as north as you can go to Woodlawn in the Bronx, known as "Little Ireland." This neighborhood has been an Irish enclave since the Irish laborers made their way up north to build the Harlem Railroad, Woodlawn Cemetery, and subways in the mid-1800s. Not to mention the Croton Reservoir and Van Cortlandt Park's aqueduct that delivers 90 million gallons of water to NYC every day. It's a great place to shop for Irish specialties like jams, teas, and meats. You can also order up a traditional Irish breakfast or watch an Irish football game while sipping a Guinness stout.
Make sure to check out Katonah Ave, home to Rambling House – a great pub where you can have traditional fares like shepherd's pie or bangers and mash. Make sure to visit Prime Cut Butchers, which is home to fabulous Irish bacon and ham. Of course, you'll also find delicious corned beef and cabbage in the nabe even though it isn't authentic Irish fare. In fact, along with the St Patrick's Day Parade, it is an Irish-American invention. The Irish immigrants 'adopted' corned beef and cabbage from their Jewish neighbors.
When the immigrants came to NY pork and the favored Irish bacon were expensive. So they tried the cured corned beef at the Jewish delis and food carts and found it to be a tasty alternative to the more expensive meats. The same with cabbage was much cheaper than potatoes…. sooooo folks started cooking them together same pot, the spiced, salty beef flavored the plain cabbage, creating a simple, hearty dish that couldn't be easier to prepare. Potatoes were added at some point and it became the traditional St Patrick's Day fare. We could go on and on probably for weeks bar hopping from Irish pub to Irish pub but let's stop here.
Stay tuned for our next journey – who knows where we will end up.
For inquiries and questions about tours ( In-person or Virtual ), you can send us an email or call. Stay tuned for Susan's next new blog!