This was written in 2020 to honor the three New York Women on the U.S. Supreme Court- Ruth Bader Ginsburg, Sonia Sotomayor, and Elena Kagan. Sadly Ruth Bader Ginsburg died on September 18, 2020. I am continuing to honor her for her invaluable contributions.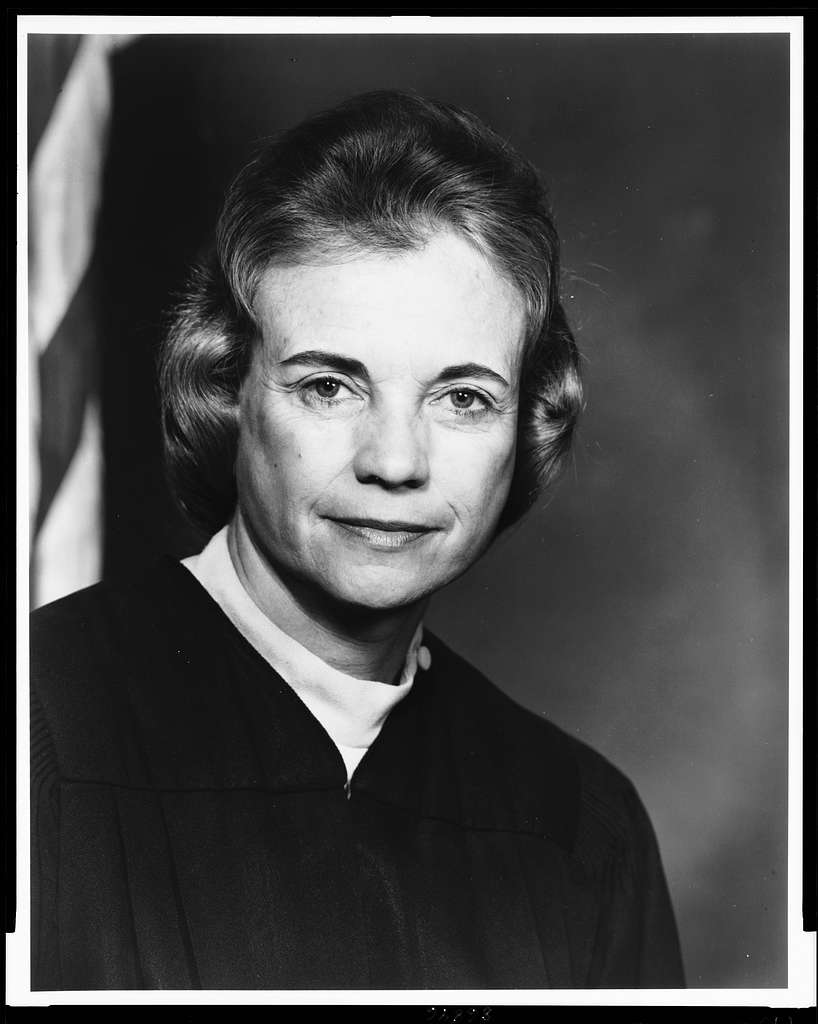 It will be missed If I will not mention Sandra Day O'Connor who was appointed by Ronald Reagan as the first woman to the Court. She was the trailblazer.
She was born in El Paso raised on a ranch where she branded cattle, shot coyotes, and jackrabbits, and lived 9 miles from her nearest neighbor.
Although her childhood was quite different, like the New Yorkers, she excelled academically. At 16 she attended Stanford University and at 22 graduated from its Law School.
Maybe like our NY bagels, it's something in the water that "produced" these impressive women. Ruth Bader Ginsberg grew up in Brooklyn, Sonia Sotomayor in the Bronx, and Elena Kagan in Manhattan. Their families were recent arrivals.
They did not exactly arrive on the Mayflower. Ruth's father was a Russian-Jewish immigrant and her mother was born in NYC to Austrian Jews. Sonia's parents were from Puerto Rico. Elena's grandparents were European Jewish immigrants.
They graduated from New York City High Schools with honors. Ruth from James Madison H.S. Where she was at the top of her class. Sonia was valedictorian at Cardinal Spellman and Elena was valedictorian at Hunter College H.S. They went to prestigious colleges - Ruth to Cornell, Sonia and Elene went to Princeton. They excelled and graduated Phi Beta Kappa.
Ruth married right out of college and later attended Harvard and Columbia Law Schools. Sonia went directly to Yale Law School and Elena attended Oxford University where she received a Master's in Philosophy and then went on to Harvard.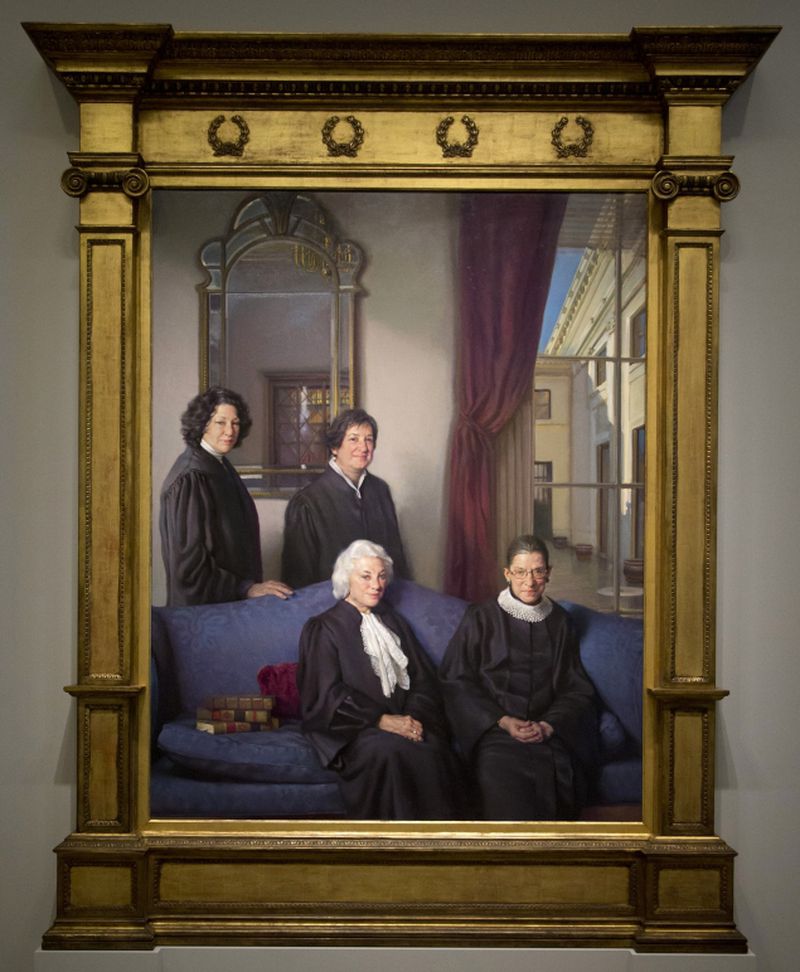 In conclusion, as I said, maybe it is the water but New York is certainly proud of these amazing and awesome women. I hope that Sonia Sotomayor and Elena Kagan will follow their colleague Ruth Bader Ginsburg and be honored with statues in the future.
For inquiries and questions about tours ( In-person or Virtual ), you can send us an email or call. Stay tuned for Susan's next new blog!
In honor of Black History Month - Elizabeth Jennings Graham - New York's "Own" Rosa Park. Years before Rosa Park's courageous stance a young woman in NYC had a similar story.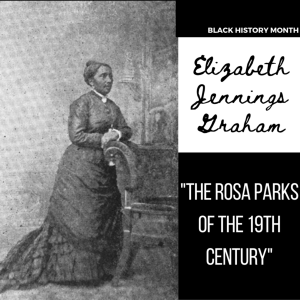 On Sunday, July 16, 1854, Elizabeth Jennings Graham a school teacher and church organist boarded a trolley at Pearl St and today's Park Row. Along with her friend Sarah Adams they were in a rush and did not wait for a trolley that stated " Colored People Allowed on this Car.
In an article written for Horace Greeley's New York Tribune in February 1855, he wrote;
"She got upon one of the company's cars last summer, on the Sabbath, to ride to church. The conductor undertook to get her off, first alleging the car was full; when that was shown to be false, he pretended the other passengers were displeased at her presence: but(when) she insisted on her rights, he took hold of her by force to expel her. She resisted. The conductor got her down on the platform, jammed her bonnet, soiled her dress, and injured her person. Quite a crowd gathered, but she effectively resisted. Finally, after the car had gone on further, with the aid of a policeman they succeeded in removing her."
The incident led to an organized effort by black New Yorkers to desegregate NYC streetcars. Frederick Douglass published the incident in his newspaper and it received national attention. Jennings' family filed a lawsuit on behalf of their daughter against the driver, the conductor, and the 3rd Avenue Railroad Company. Elizabeth was represented by the law firm of Culver, Parker, and Arthur. Her case was handled by the firm's 24-year-old junior partner Chester A. Arthur, future president of the United States.
In 1855 the court ruled in her favor. She was awarded $250 in damages ( equivalent to $6,900 today) The Brooklyn Circuit Court Judge William Rockwell declared: "Colored persons if sober, well behaved and free from disease, had the same rights as others and could neither be excluded by any rules of the company nor by force of violence. The next day the Third Avenue Railroad Company ordered its cars desegregated.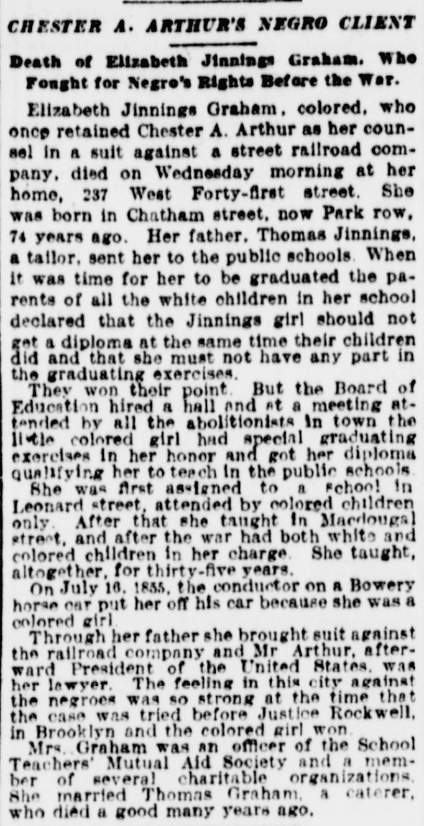 Elizabeth Jenning went on to marry Charles Graham and to teach for 35 years. They had a son who died at age 1 of convulsions during the Draft Riots on July 16, 1863. With the help of a white undertaker, they were able to slip through the mob-filled streets and bury him in Cypress Hills Cemetery in Brooklyn. After the Draft Riots, the family left NYC for Monmouth County New Jersey. After Charles' death, Elizabeth and her mother and sister returned to NYC.
In 1895 she founded the first kindergarten for black children at her home on West 41 St. and dies on June 5, 1901.
Today- thanks to a campaign by children from P.S. 361 in Manhattan a block of Park Row has been "so-named" Elizabeth Jennings Place. A statue of Elizabeth Jennings Graham is slated to be erected as part of the "She Built NYC" initiative. At the moment the location is being discussed.
For inquiries and questions about tours ( In-person or Virtual ), you can send an email or call. Stay tuned for Susan's next new blog!
It's not too late to experience one of New York's Holiday wonders – The Holiday Train Show at the New York Botanical Gardens. It ends this Sunday, Jan 23! Get tickets here.
This year I attended the Holiday Train Show with my 3-year-old granddaughter Maya Shayne.
To call the Holiday show a "train" show is really a misnomer. The Botanical Gardens has created an incredible collection with the help of the visionary artist Paul Busse and his fabulous team. The trains are interesting but for me, the real "hook" is the amazing replicas of New York City Landmarks. All the iconic "New York" buildings and sites are there- made of pine cones, twigs, berries, and all sorts of natural materials.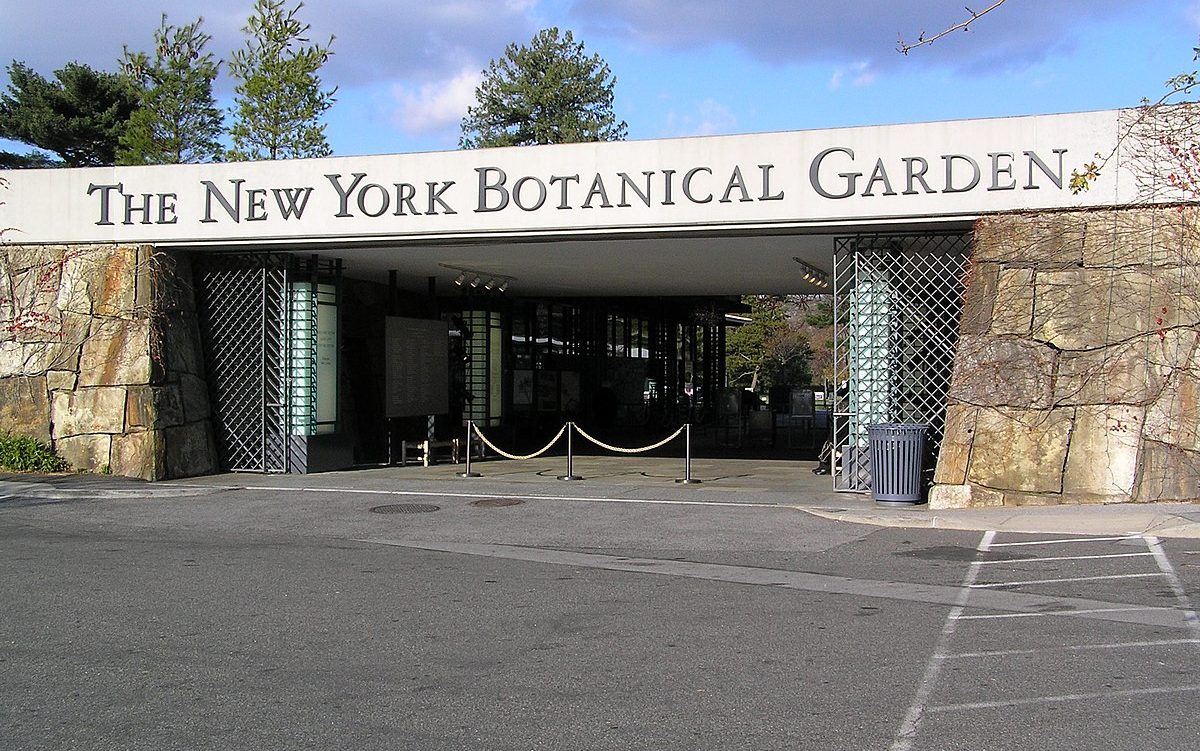 Each year it is updated and the 2021 addition is the New York Botanical Gardens own LuEsther T Metz Library. It was founded in 1899 and is the largest botanical library in the USA.
I believe we went to the first "train show" in 1991. It consisted of a large table- just like a train board, you would set up in your living room. It was outdoors in front of the administration building (the same building in which I won an "honorable" mention for my begonia dish garden in a competition for NYC school children when I was in the 6th grade at PS 91).
HERE ARE SOME OF MY FAVORITES!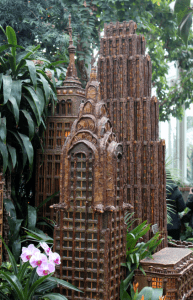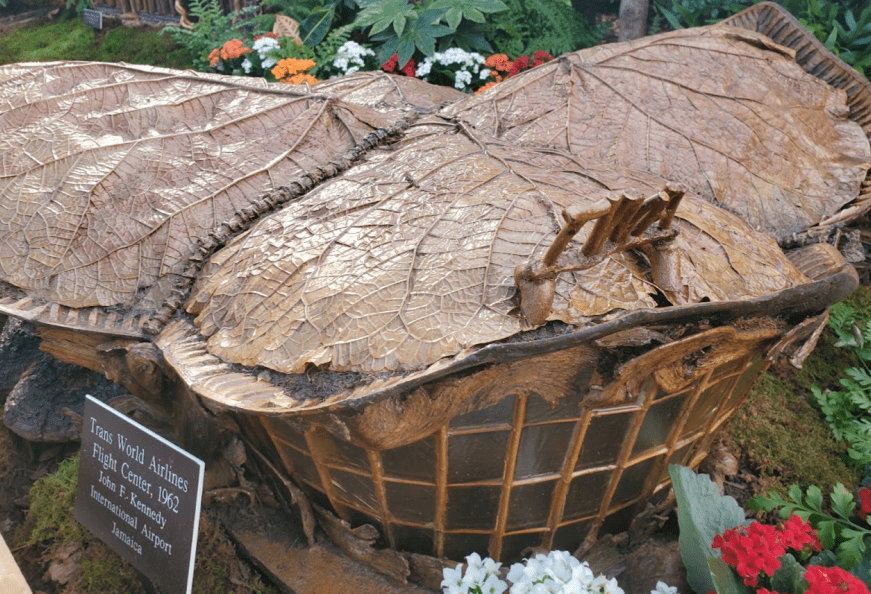 TWA Passenger Terminal (Image by Susan Birnbaum)
Maya with the Statue of Liberty (Image by Susan Birnbaum)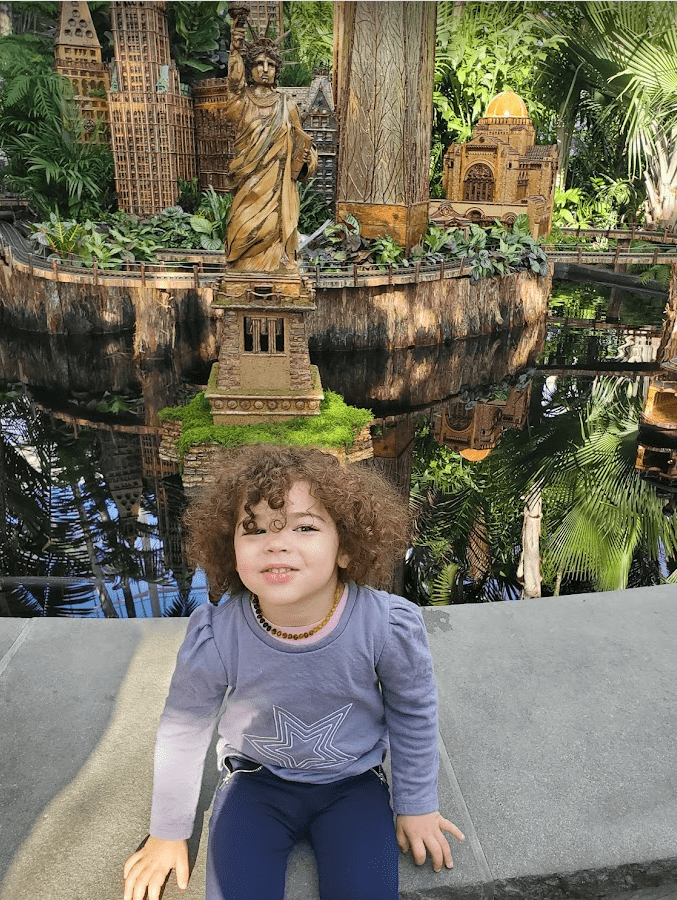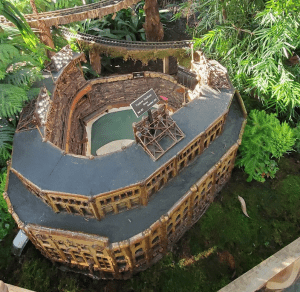 Yankee Stadium (Image by Susan Birnbaum)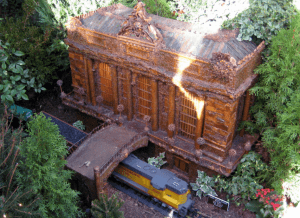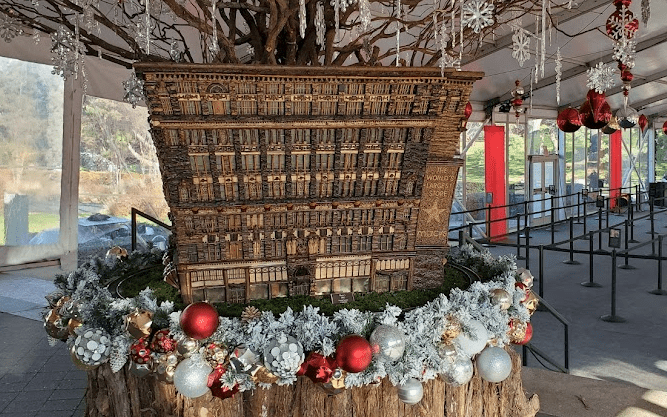 Macy's (Image by Susan Birnbaum)
Radio City Music Hall (Image by Susan Birnbaum)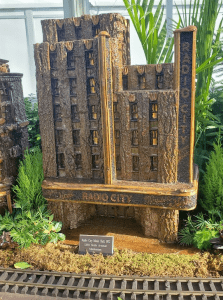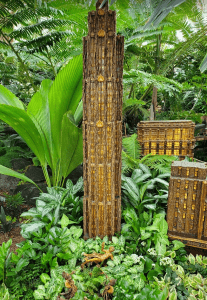 Rockefeller Center (Image by Susan Birnbaum)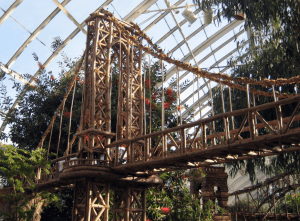 New York has so many interesting and festive activities during the Holiday Season sometimes it's hard to choose, but I know The New York Botanical Gardens Train Show never disappoints.
Let us know which interests you!
HAPPY NEW YEAR EVERYONE! We wish you a rocking Year. ????
Times Square has been having New Year's celebrations since 1904 when the New York Times moved uptown and opened its headquarters at what is now 1 Times Square. The original celebrations were lavish firework displays from the top of the building from 1904-1906 but stopped by city officials because of the danger of fire.  Fireworks are dirty and dangerous soooo the ball was substituted in 1907.  Jacob Starr designed it and it was 5 feet in diameter and weighed 700 pounds and was decorated with 100 light bulbs.  On that night in 1907, hundreds of thousands of people congregated to watch the ball being lowered on a pole atop the building, marking the start of the new year. 
The long tradition continues today. Since 1908, and for more than one hundred years thereafter, Times Square sign maker Artkraft Strauss has been responsible for the ball-lowering. FYI they were also responsible for the iconic "Camel" Man sign which had smoke coming out of his mouth and many others throughout Times Square. They were the kings of neon. (Fun SusanSez Fact: My Mom worked for them for many years!)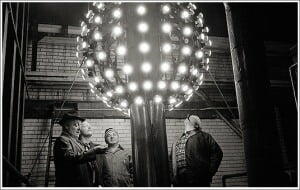 First New Years Ball in 1907 via Vintage Culture
The first ball, dropped on December 31, 1907, was made of wood and iron but it is now the famous Waterford Crystal 2014 NYE Ball to be feature new elements via Times Square you see today. On that night in 1907, hundreds of thousands of people congregate to watch the ball being lowered on a pole atop the building, marking the start of the new year.
Over the years the ball was tweaked and changed for various reasons. To celebrate the centennial of the ball drop, a new energy-efficient LED ball debuted to bring in 2008. Just one year later to bring in 2009 a larger ball was used and has become the permanent installation as a year-round attraction, used for celebrations such as Valentine's Day and Halloween.
NYE Ball 2008 which became shown to the public year-round via Times Square
On average, about one million revelers crowd Times Square for the New Year's Eve celebrations. However, for the millennium celebration on December 31, 1999, published reports stated approximately two million people overflowed Times Square, flowing from 6th Avenue to 8th Avenue and all the way back on Broadway and Seventh Avenues to 59th Street.
2007 celebrated 100 years since the first ball dropped and a new ball was designed by Waterford Crystal and Phillips Lighting. LEDs enabled the lights to change color. It became known as the centennial ball.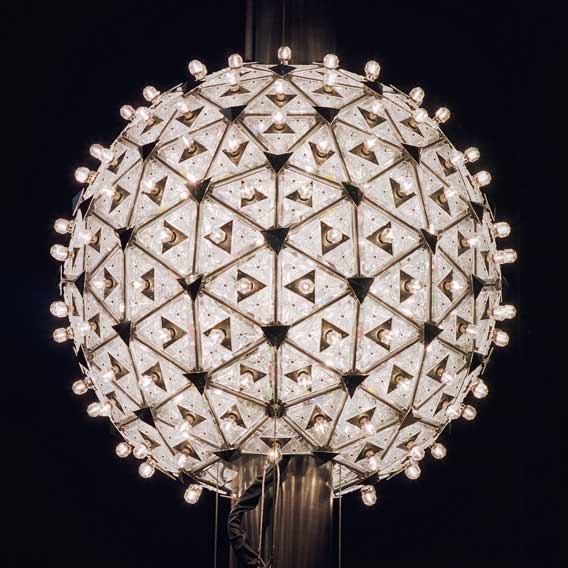 NYE Ball 2008 (photo by Times Square Ball)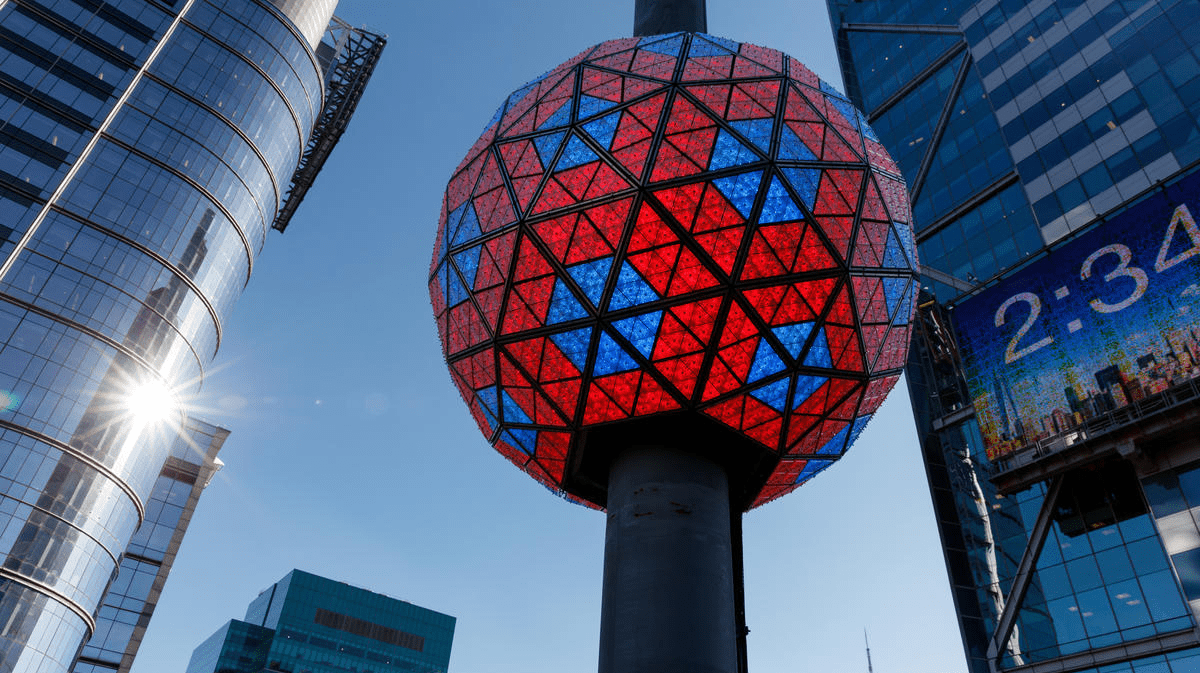 2021 NYE Ball (photo by Times Square ball)
Last year sadly Times Square was closed to the public due to CoVID. The ball received a facelift It was covered in 2,6888 Waterford crystals and 32,256 LED lights in 16 million vibrant colors. It weighs 11, 875 pounds.
This year the ball will be updated-it as part of Waterford's Gift of Wisdom design for 2022.
As of this writing, a press release indicates that due to the Omnicron surges in NYC the crowd will be greatly reduced. Instead of 58,000 people, it will be scaled back to 15,000. Proof of vaccination will be required for everyone over 5 years old and Masks will be required.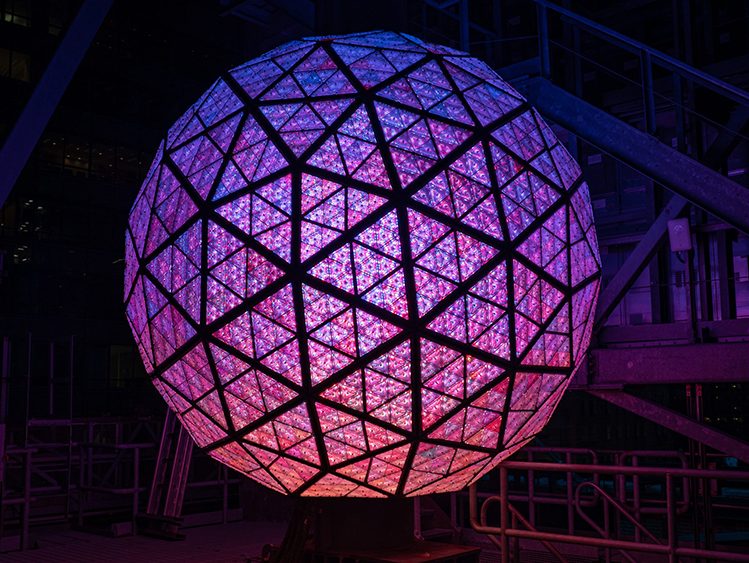 2022 NYE Ball (photo by Waterford)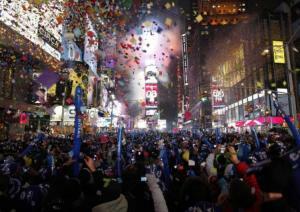 I made it down there once – mostly as a result of a dull party with a dull date. I organized a group and we made our way downtown to Times Square. It was fun and exciting and at 11:59 p.m., the Ball began its descent as thousands of voices united to countdown the final seconds of the old year. The most amazing part of it was how quickly the crowd scattered and within a few minutes, there was no sign of the festivities.
If you're interested Times Square Association has pulled together some fun facts about the ball, click here to see them!
I hope to see you this year of 2022! Subscribe to our mailing list and Share. ????
Christmas in NYC wouldn't be the same without all of the amazing trees surrounding the city and becoming a backdrop for photos seen across the world.  It started as a German tradition but has evolved NYC into a winter wonderland.
It might be late but still, Happy Holidays everyone! Join us in our Little Christmas Tree tour experience here in NYC! ????
To get started, let's share a bit of the history of the trees in NY:
Madison Square Park held the very first public tree lighting in 1912
The New York Stock Exchange had their first tree on Broad Street in 1923
In 1933 the construction workers building Rockefeller Center chipped in to buy a tree and celebrate as a thank you for having work during the Great Depression
Now let's start a Christmas Tree tour around NYC! We will start the walk on Park Ave at 42 St. and end it at 5st St and 5th Ave.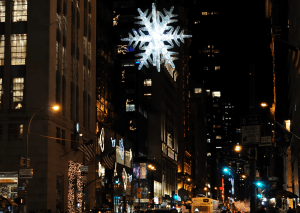 UNICEF Snowflake (Image by Ralph Daily Flickr.com)
As you end your walk going south on 5th Ave, I want to mention another of NYC's iconic Christmas decorations although it is not a tree. In the heart of the city at 57th st and 5th ave is the UNICEF Snowflake, which is a special symbol for the world's most vulnerable children.  The snowflake contains 16,000 crystal prisms, is 23 feet wide, over 28 feet tall, and weighs more than 3,300 pounds. It hangs each year as a reminder of UNICEF's commitment to reach a day when zero children die from preventable causes.
Stay tuned to see what happens next week as we explore the history of the New Year's Eve Ball Drop.  COVID, COVID, COVID has certainly turned many traditions upside down. Join us in our Virtual and In-Person Tour!
Enjoy the holiday stroll and let me know which ones you like the most! Leave your comments below ????