In January I ventured out of NYC and visited San Antonio Texas by way of Dallas and Austin. The trip was extra exciting because the night before I stayed at the TWA Hotel- a great way to avoid a 3 AM ride to JFK.. 
It  is an interesting place-a well appointed hotel that is a trip back in time.
In fact it houses a museum that documents the history of TWA, the airline that was founded by Howard Hughes. The exhibits were curated by the New York Historical Society and really are a hoot.  It's quirky, it's fun and it truly is a tribute to the "The Golden Age of Flying" . The TWA Hotel is on the site of Eero Saarineen's landmarked TWA Flight Center.
It was originally built in 1962. It was praised by the American Institute of Architects as "one of the grandest examples of mid 20th Century modern architecture and is listed on the National Register of Historic Places.
The original Flight Center is flanked by two hotel wings that are designed to reflect and defer to the Flight Center. There are 512 hotel rooms, a rooftop pool, several restaurants, bars and retail space as well as historic exhibitions and more. It includes meeting and event spaces-There is 50,000 square feet of event space. So if you want to have a party for 1600 guests it is not a problem.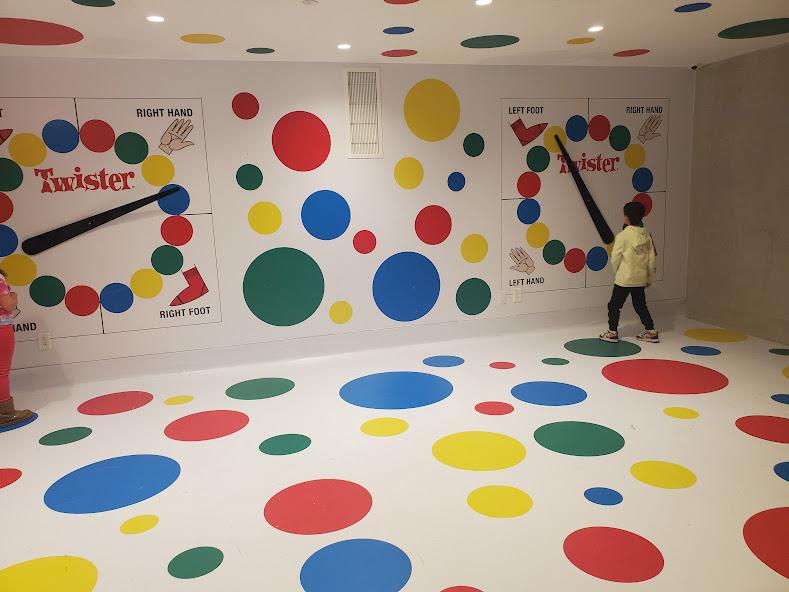 Lots of nostalgia - a Twister Room- yes really you can play twister there in a wall to wall twister game complete with an oversized spinner and a 1962 living room- complete with a vintage TV. There is a replica of Howard Hughes office and the walls tell the story of TWA.
To complete the "walk back in time" there are 2 small vintage cars- a BMW and a Fiat just sitting there for photo ops. The walls tell the story of  Eero Sarineen and the TWA history.  Vintage posters, photos of celebrities and more.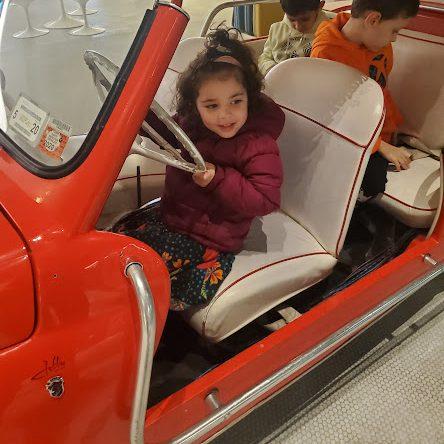 On the mezzanine there is a fabulous collection of TWA uniforms by great designers of the 1960s and 1970s.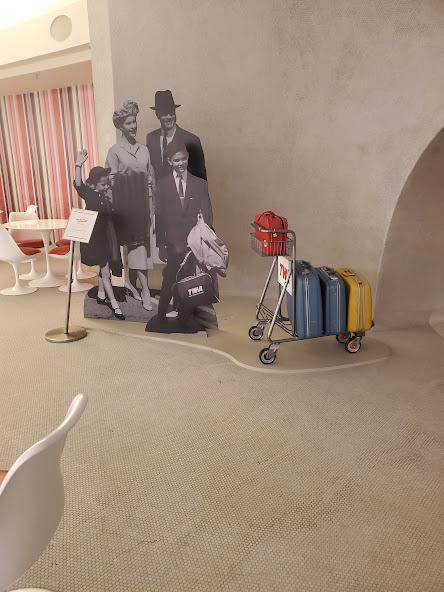 And then there are the rooms- There are 512 guest rooms. They offer overnight and "day tripper" stays. You can stay from 4 hours- overnight. They are set up for efficiency and comfort. The floor to ceiling windows are the second thickest in the world.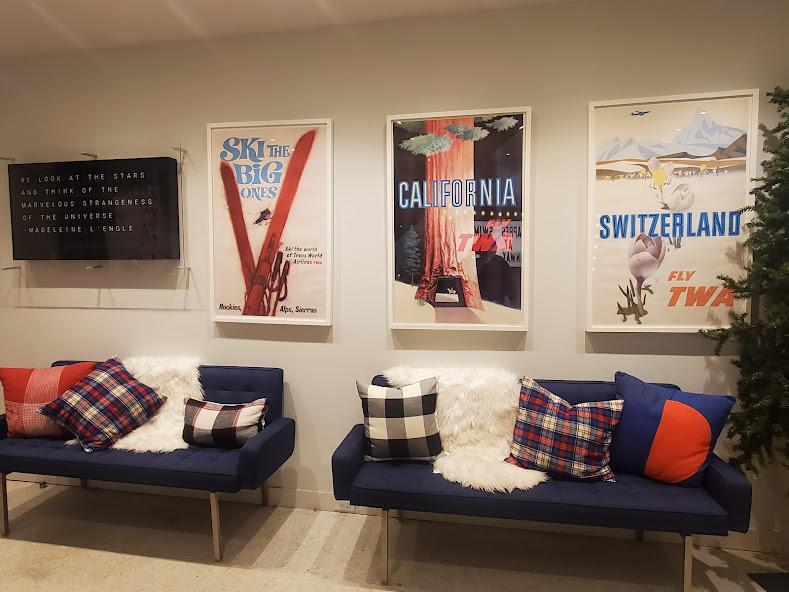 This blog was a great opportunity to share my experience at the TWA JFK Hotel. From the amazing room designs to the convenient location, my trip was a memorable one. Look forward to my next blog, where I'll be sharing stories and photos about my travels.
For inquiries and questions about tours ( In-person or Virtual ), you can send an email or call. Stay tuned for Susan's next new blog!
Many fortunes were made during the Civil War. The " Gilded Age'' followed the war and the "nouveau riche" made sure you knew that they had money and they knew how to spend it. Grand mansions were built along 5th Avenue and an ostentatious lifestyle followed. 
In addition to all of the "things" the American aristocracy displayed, they were particularly skilled at flaunting their wealth at lavish parties and balls. Mrs. Astor's ballroom held 400 people and thus gave rise to the term the Four Hundred- a list of New York society that Mrs. Astor approved. On February 16, 1892, the "Official" list was published in the NY Times by Ward McAllister, a confidante of Mrs. Astor. It included the Astors, the Vanderbilts, the Fishes, the Whitneys, and the Lorillards among others. Many have portraits at the Metropolitan Museum of Art
During this time New York became the nation's corporate headquarters for luxury retailers who plied their wares on Ladies Mile, and many cultural institutions like the Metropolitan Museum of Art, The Metropolitan Opera, and many more helped to make NYC the worldwide force it remains today.
Here's my "don't miss" list:
Henry Clay Frick House - 5th Ave and 70 St. - aka The Frick Museum

The Mansion is under renovation but the art collection has been temporarily relocated to the former home of the Whitney Museum at 945 Madison Ave.

The Ukraine Institue of America - 5the Ave and 79 St. former home of Henry F. Sinclair, Isaac D. Fletcher, and descendants of Peter Stuyvesant. The Ukraine Institute offers art exhibitions, musical programs, lectures and more. A visit offers a great opportunity to experience the mansion.
NYU Institute of Fine Arts - former James Duke House - 78 St. and 5th Convent of the Sacred Heart - 5th Ave and 97th - former Otto Kahn House.
The Neue Gallery- former William Starr Miller Mansion-5th Ave and 86 St. and since 2006 home to the "Portrait of Adele Bloch-Bauer" by Gustav Klimt aka"The Lady in Gold"
So, if you want to see how the 1% lived in the Gilded Age, explore these fabulous houses, visit the Metropolitan Museum of Art or just take a walk through the Upper East Side's Carnegie Hill neighborhood. In addition to the 5th Avenue mansions, the cross streets have great examples of the opulent lifestyle. 
Feeling more adventurous? Take a trip to Newport Rhode Island to visit their "summer cottages"
Where are we off to next? The only hint I'll give you is we are traveling East!
For inquiries and questions about tours ( In-person or Virtual ), you can send an email or call. Stay tuned for Susan's next new blog!
July 14 is Bastille Day- Sooo to honor the day that Parisians stormed the Bastille and the onset of the French Revolution in 1789 I decided to check out the French influences a la NYC.
What's with NYC's fascination with France? I guess the "French Connection" goes way back. It can be attributed to the role the French played in the American Revolution and the Marquis de Lafayette. He was George Washington's "adopted" son and aide de camp. In 1824 he returned to NYC and toured the U.S. and was treated as a rock star. He was feted with parades wherever he went and Congress voted him a gift of $200,000 and a large tract of land. Marquis de Lafayette, the statesman and general, maintained the convictions of democracy, social equality, and religious freedom throughout the remainder of his life.
For a moderately priced French experience, today try:
Chez Napoleon- a family-owned restaurant with grandmere in the kitchen
La Bonne Soupe - wonderful onion soup(what else) and more.
Café Luxembourg- a great place on the Upper West Side for celebrity watching- good food also.
Le Gigot- delicious duck and attentive service right on Cornelia St in the West Village.
Of course, French art is all over NY but I will leave that for you to discover on your own-hint MOMA the Met or maybe another Blog.
I could go on and on but I won't. As you can see you don't have to fly off to Paris for a great French experience.
For inquiries and questions about tours ( In-person or Virtual ), you can send an email or call. Stay tuned for Susan's next new blog!
Our tour will visit 4 areas in NY that are little pieces of Ireland in NYC.
The first stop is the Irish Hunger Memorial, located on a ½ acre site at the corner of Vesey Street and North End Avenue near Battery Park City. It is an authentic 19th-century Irish cottage set on a uniquely landscaped plot, which utilizes stones, soil and native vegetation brought in from the western coast of Ireland and contains stones from all of the different counties of Ireland. It's dedicated to raising awareness of the Great Irish Famine – referred to by the Irish as "The Great Hunger" or An Gorta Mor in Irish Gaelic, which killed over a million people in Ireland between 1845 and 1852. The memorial was completed and dedicated on July 16, 2002. Many Irish families were forced to emigrate from the country. By 1854, between 1.5 and 2 million Irish had left their country. By 1850, the Irish made up a quarter of the population in Boston, New York, Philadelphia, Buffalo, and Baltimore. In the US today, there are 33.7 million residents who claim Irish ancestry with NYC having the largest number of Irish-Americans of any city in the United States.
I'll bet you are expecting me to talk about Irish bars – I won't disappoint, but before we start our traipse uptown let's make a b-line for the oldest Irish bar in NYC – McSorley's Old Ale House, generally known as 'McSorley's'. It is on East 7th Street in the East Village. Two of McSorley's mottos are "Be Good or Be Gone," and "We were here before you were born."
Prior to 1970, it was one of the last 'Men-Only pubs.' Another motto was "Good Ale, Raw Onions and No Ladies." In fact, Dorothy O'Connell Kirwin, who inherited the bar in 1939 adhered to this rule and only entered the bar on Sundays.
In 1970 McSorely's was legally forced to serve women but did not have to provide restrooms for them so restrooms at McSorely's remain coed. Aside from the ladies not much has changed at McSorley's since it opened – sawdust floors, Irish waiters and bartenders, and lots of memorabilia scattered throughout. There are wishbones hanging above the bar; supposedly hung by boys going off to World War I. The plan was to remove them upon their return, therefore the wishbones remaining are from those that never returned.
Notable people who have visited McSorley's include Abraham Lincoln, Ulysses S. Grant, Teddy Roosevelt, Peter Cooper, Boss Tweed, and Woody Guthrie. So let's have a pint of ale and the famous cheese platter with onions and we'll add our names to this list.
Now that we have been fortified let's head up to St Patrick's Cathedral on 5th Avenue and 51st Street. The site was originally intended to be a burial ground but was too rocky and in 1850, John Hughes the first Archbishop of NYC (an Irish immigrant) announced the plan to build a new cathedral. The cornerstone is dated 1858 and it was consecrated in 1910. Designed by James Renwick and William Rodrigue in the decorated Gothic style of the 13 century. It's considered a symbol of the success in New York of its immigrant Irish population – to get some sense of its majesty here are some statistics.
If you find yourself in the East Village on 6th or 7th street you may just find you have arrived in Ukraine without even jumping on a plane. The culture of Ukraine, handcrafts, and food can be found dispersed right along the streets here. This was previously posted a couple of years ago but I think it apropos to repost it as a show of support for Ukraine.
During the pandemic, they have offered a multitude of online programming including art exhibits, concerts, and lectures. Check out the Ukrainian Institute YouTube channel.
For inquiries and questions about tours ( In-person or Virtual ), you can send us an email or call. Stay tuned for Susan's next new blog!
This was written in 2020 to honor the three New York Women on the U.S. Supreme Court- Ruth Bader Ginsburg, Sonia Sotomayor, and Elena Kagan. Sadly Ruth Bader Ginsburg died on September 18, 2020. I am continuing to honor her for her invaluable contributions.
In honor of Black History Month - Elizabeth Jennings Graham - New York's "Own" Rosa Park. Years before Rosa Park's courageous stance a young woman in NYC had a similar story.
As you may know, the Lunar New Year is just about here! New Year's "Eve" is January 31. It is the Year of the Tiger and as usual, the festivities last 15 days.
New Year's Eve is traditionally spent with family and friends eating "lucky" foods such as:
Dumplings - that are associated with wealth
Spring Rolls - carriers of prosperity
Nian gao - glutinous rice cakes for general improvement in life
Sweet Rice Balls - symbolic of reunion and being together
Noodles - longevity noodles that are longer than normal noodles ( the longer the better ) - symbolic of long life
New Year's Eve is also a time to distribute "Angpao", red envelopes with money to the younger family members.
In addition to foods, there are "lucky" colors that are also associated with the year of the Tiger; Cerulean Blue, Fiery Red, Mint Green, and Yellow.
Celebrations abound throughout New York's " Chinatowns." They include Flushing and Elmhurst in Queens, Sunset Park, Bath Beach, and Bensonhurst in Brooklyn as well as lower Manhattan.
One of the largest enclaves of Chinese people in the western hemisphere is right here in New York City's Chinatown between the Lower East Side and Little Italy. The borders are considered to be Broome Street to the north, amalgamating with Little Italy, Chambers Street to the south, East Broadway to the east, and Broadway to the west (bordering TriBeCa).
The bargains are definitely found in small bites such as dumplings and you can get 17 for $5 at 106 Mosco St. Roast Pork buns are 2.30 at Fa Da Pastries at 83 Mott St. Check at the street carts and fruit stands- you will find authentic reasonably priced treats. Whether you are looking for a banquet check out some of these places :
Nom Wah Tea Parlor: The first Dim Sum parlor in NYC, serving since 1920. Definitely get the egg roll and any other plates that tingle your senses
Jing Fong: Another great Dim Sum place along Center Street
Peking Duck House: Do you like duck? Then make this your first stop, there is no need to give 24 hour notice and it is delish
Wo Hop: Try some old time "Cantonese" dishes
Joe's Shanghai: Try their "soup" dumplings - A Shanghai specialty that is delish and offers you a "spurt" of yummy soup with every bite
Ten Ren: Check them out for fabulous exotic teas and you may even be able to participate in a traditional tea ceremony
Wu's Wonton King-great Cantonese dishes as well as roast duck, ribs and seafood
Deluxe Food Market: If you're in a hurry stop here for prepared foods to go such as noodles of all kinds, seafood, veggies and more.
Events for the Year of the Tiger
January 31: The New Year Firecracker Ceremony at Sara Delano Roosevelt Park
February 3-5: Brookfield Place- Ice Carving and Sculpture Display- Lantern making
February 5: Chelsea Market- Outdoor meal and Lion Dancing
February 5: Brooklyn Children's Museum -Festival of Chinese Traditions 
February 5: Lion Dancing starting at Golden Diner 12- 1 PM- 123 Madison St-Chinatown 
February 8: Philharmonic Lunar Concert conducted by Earl Lee
February 9-24: Annual  Lunar New Year Parade and Festival- it starts at the corner of Mott and Canal at 1 PM
February 11: Lion Dancing 6-7 PM - Jing Fong-202 Centre Street
February 15: Lunar New Year Lantern Festival
February 1-16: Flushing Town Hall- Lunar New Year Exhibition and Begin Anew and  February 5
February 5-6: Flushing Town Hall Lunar New Year Documentary Film Festival
February 12: Staten Island Museum- ornament making/calligraphy/paper dragons
Let us know how's your Chinese New Year experience. Leave your comments below! ???? KUNG HEI FAT CHOI EVERYONE! ????
For inquiries and questions about tours ( In-person or Virtual ), you can send an email or call. Stay tuned for Susan's next new blog!
It's not too late to experience one of New York's Holiday wonders – The Holiday Train Show at the New York Botanical Gardens. It ends this Sunday, Jan 23! Get tickets here.
This year I attended the Holiday Train Show with my 3-year-old granddaughter Maya Shayne.
To call the Holiday show a "train" show is really a misnomer. The Botanical Gardens has created an incredible collection with the help of the visionary artist Paul Busse and his fabulous team. The trains are interesting but for me, the real "hook" is the amazing replicas of New York City Landmarks. All the iconic "New York" buildings and sites are there- made of pine cones, twigs, berries, and all sorts of natural materials.
New York has so many interesting and festive activities during the Holiday Season sometimes it's hard to choose, but I know The New York Botanical Gardens Train Show never disappoints.
Let us know which interests you!
HAPPY NEW YEAR EVERYONE! We wish you a rocking Year. ????
Times Square has been having New Year's celebrations since 1904 when the New York Times moved uptown and opened its headquarters at what is now 1 Times Square. The original celebrations were lavish firework displays from the top of the building from 1904-1906 but stopped by city officials because of the danger of fire.  Fireworks are dirty and dangerous soooo the ball was substituted in 1907.  Jacob Starr designed it and it was 5 feet in diameter and weighed 700 pounds and was decorated with 100 light bulbs.  On that night in 1907, hundreds of thousands of people congregated to watch the ball being lowered on a pole atop the building, marking the start of the new year. 
The long tradition continues today. Since 1908, and for more than one hundred years thereafter, Times Square sign maker Artkraft Strauss has been responsible for the ball-lowering. FYI they were also responsible for the iconic "Camel" Man sign which had smoke coming out of his mouth and many others throughout Times Square. They were the kings of neon. (Fun SusanSez Fact: My Mom worked for them for many years!)
If you're interested Times Square Association has pulled together some fun facts about the ball, click here to see them!
I hope to see you this year of 2022! Subscribe to our mailing list and Share. ????