This past January the Guides Association of NYC joined Guide Associations throughout the U.S. for a conference in San Antonio. It sounded good to me- an opportunity to get out of town, meet tour guides from all over the U.S., and a chance to visit friends in Dallas.
So after spending a great night at the TWA Hotel ( see the previous blog?) I did write about that, didn't I? Howard and I boarded a Delta plane at 7:30 AM - destination- Dallas. We rented a car and our plan was to drive down to San Antonio after stopping in Dallas with our friends, stop in Austin, and visit the LBJ Library. Pretty much the plan worked well.
We stayed in Dallas for two days- had a very good meal at a Mexican restaurant- caught up with our friends Susan and Gary and then took off for Austin.
The LBJ library is an amazing place dedicated to an extraordinary man- Lyndon Baines Johnson. I was really blown away by the depth of it. It documents LBJ's career from a school teacher to the President of the United States. He was a compassionate, complex man.
We drove through Waco and on to San Antonio.
So now off to the NFTGA (National Federation of Tourist Guides Association) conference in San Antonio. San Antonio is really unique and surprising. Sort of the "Wild West" meets 2023. Lots of history and we would be meeting with its touring experts.
We took some great tours with the local tour guides. We started with a walking tour that gave us an overview with a wonderful guide.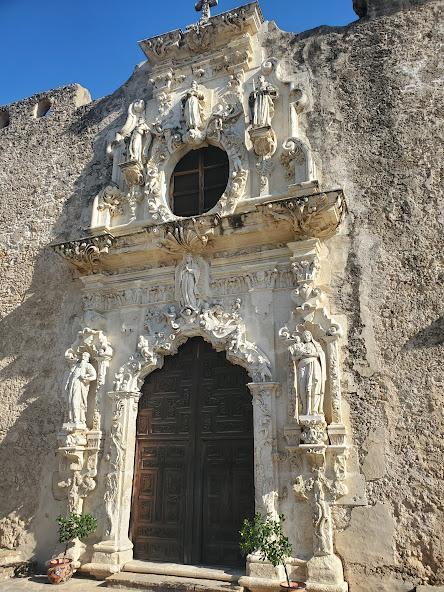 We had a great afternoon visiting the San Antonio Missions. The missions are UNESCO World Heritage Sites and a wonderful way to learn about the historical missions that were established by Catholic Priests who were sent by Spain to convert the native population.
We also visited the Cathedral of San Fernando - It was built in 1731 and was the first church built in San Antonio. It is considered a legacy of the first 15 families from the Canary Islands who settled in San Antonio.
It is home to the Alamo with a Davy Crockett statue in the middle of the park. It is much smaller than I thought it would be. It honors the Battle of the Alamo- 1836. Following a 13-day siege(February 23-March 6,1836) Mexican Troops under General Antonio Lopez de Santa Anna reclaimed the Alamo Mission. Some of you may remember Walt Disney's Davy Crockett- King of the Wild Frontier (1955).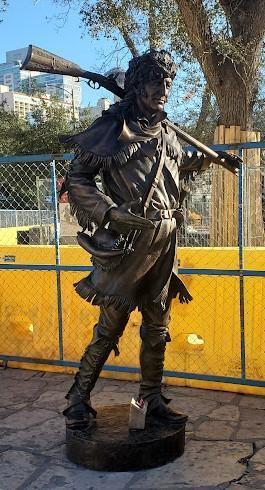 The battle was a great defeat for the Texians. The Texians went on to defeat the Mexican Army at the Battle of Jacinto on April 21, 1836, and The Republic of Texas was created. The Alamo Cenotaph is in front of the Alamo and it honors the folks who are known to have fought on the side of Texas at the Alamo.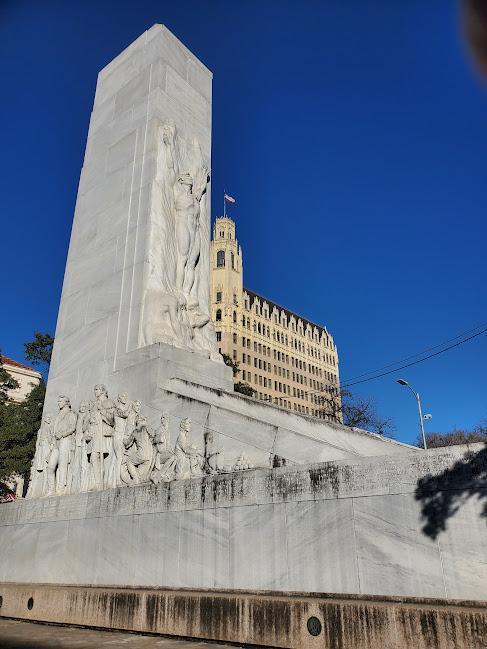 "Riverwalk" is fun- Riverwalk (aka Paseo del Rio) is a 15-mile-long river walk. It is a unique blend of "lazy" riverboat rides and a good selection of excellent restaurants serving Mexican food, barbeque, and more. We had some excellent mussels as well as great Sangria. We also had a great lunch at the landmark restaurant- "Schilo's"- an old-fashioned German Deli -with great pastrami and corned beef sandwiches and they make their own yummy root beer.
One afternoon we explored the King William Historic District- a neighborhood of fabulous houses built in the 19th century and restored by historic preservationists.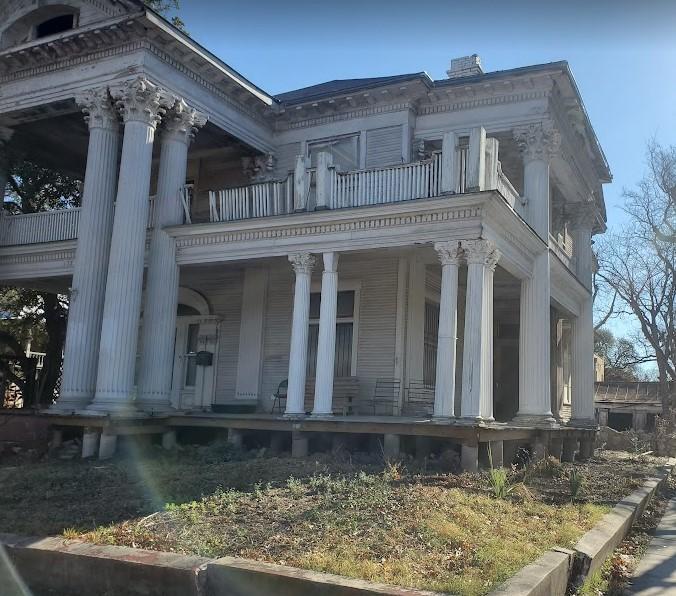 We toured the Villa Finale Estate. It was built by its original owner-Russel Norton in 1876. In the 1960s Walter Nold Mathis- a local preservationist purchased the French Second Empire Style House and restored it. His collection of fine and decorative art is displayed. Walter Nold Mathis was instrumental in the revitalization of the historic William neighborhood.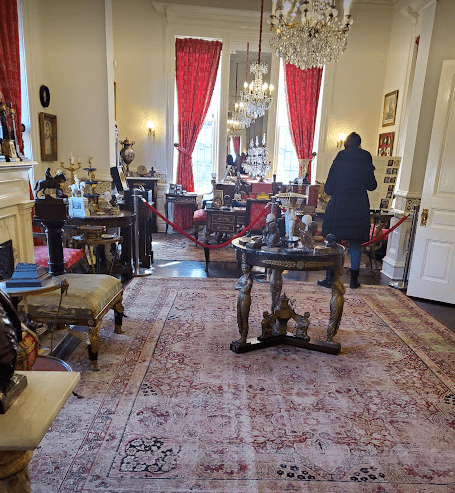 The entire neighborhood is amazing and quite a "walk back in time" filled with beautifully restored houses, a gazebo, a palm tree, and walking paths.
One evening we had the opportunity to visit the Knibbe Ranch. We had a great barbeque and our hosts Sharon and Chuck Knibbe gave us a tour of the ranch and also discussed the craft of storytelling with us. They also introduced us to their steers.
San Antonio is also home to one of my favorite shops- It is called Niche and I have been ordering from them for years. I was determined to check it out in person. It is housed in a new shopping center and it was fun to see it.
I actually bought a dress there to wear to the GANYC Awards. We were away only 5 days but we filled them with all sorts of experiences. Just another opportunity to see the U.S.A.!!!
For inquiries and questions about tours ( In-person or Virtual ), you can send an email or call. Stay tuned for Susan's next new blog!