In January I ventured out of NYC and visited San Antonio Texas by way of Dallas and Austin. The trip was extra exciting because the night before I stayed at the TWA Hotel- a great way to avoid a 3 AM ride to JFK.. 
It  is an interesting place-a well appointed hotel that is a trip back in time.
In fact it houses a museum that documents the history of TWA, the airline that was founded by Howard Hughes. The exhibits were curated by the New York Historical Society and really are a hoot.  It's quirky, it's fun and it truly is a tribute to the "The Golden Age of Flying" . The TWA Hotel is on the site of Eero Saarineen's landmarked TWA Flight Center.
It was originally built in 1962. It was praised by the American Institute of Architects as "one of the grandest examples of mid 20th Century modern architecture and is listed on the National Register of Historic Places.
The original Flight Center is flanked by two hotel wings that are designed to reflect and defer to the Flight Center. There are 512 hotel rooms, a rooftop pool, several restaurants, bars and retail space as well as historic exhibitions and more. It includes meeting and event spaces-There is 50,000 square feet of event space. So if you want to have a party for 1600 guests it is not a problem.
Lots of nostalgia - a Twister Room- yes really you can play twister there in a wall to wall twister game complete with an oversized spinner and a 1962 living room- complete with a vintage TV. There is a replica of Howard Hughes office and the walls tell the story of TWA.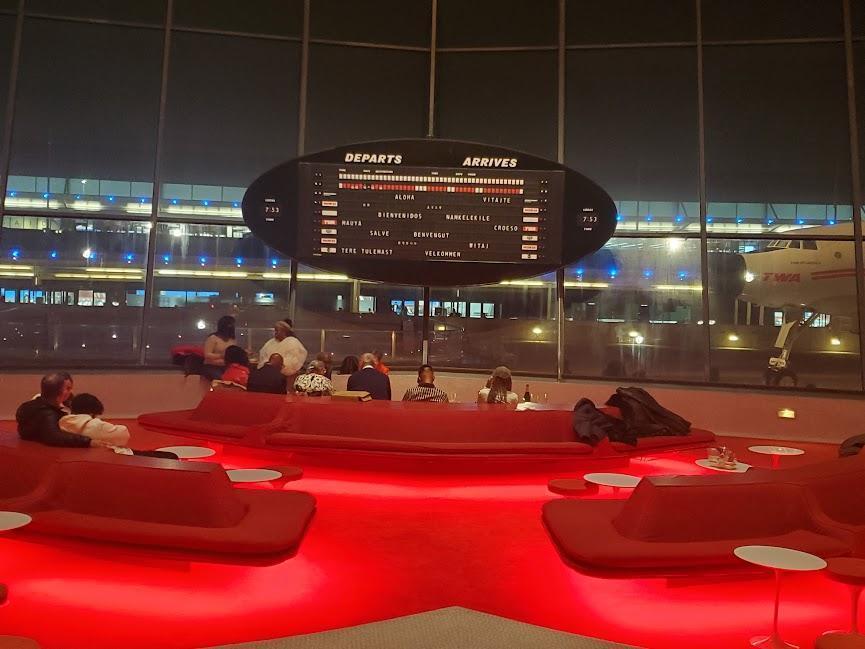 The Sunken Lounge where the Beatles arrived in the U.S. in 1965 is a great bar offering great cocktails such as Vodka is My Co-Pilot; Control Tower Sour; Jet  Fuel, Dynamics Eero, Paper Plane and Mile HIgh Margarita. It also has an eclectic menu that includes sliders, quesadillas, crudite plates and charcuterie platters. You can even get the 60s soda- TAB. It has been taken out of retirement and it featured at the bar. There is also a "Food Hall" that is located in the lobby. It's a good place to get a quick snack or breakfast. The Jean- Georges' Paris Cafe is really fabulous. We had a delicious meal that included roasted cauliflower, pizza , and calamari. 
The Observation Deck has views of the Bay Runway- it's nearly 3 miles long and the Runway Right 13/31 left. It is the second longest runway in the U.S. The Runway Chalet offers cocktails, Hot Toddies and Hot Chocolate and a cozy fireplace bar. A Lockheed Constellation "Connie" L-1649A plane- 116 ft long-23 ft high that was originally commissioned by Howard Hughes has been restored and has been converted to a cocktail lounge. You actually have to go out to the tarmac and up the steps to enter it. You are instantly transported to 1958. Great cocktails and lots of fun.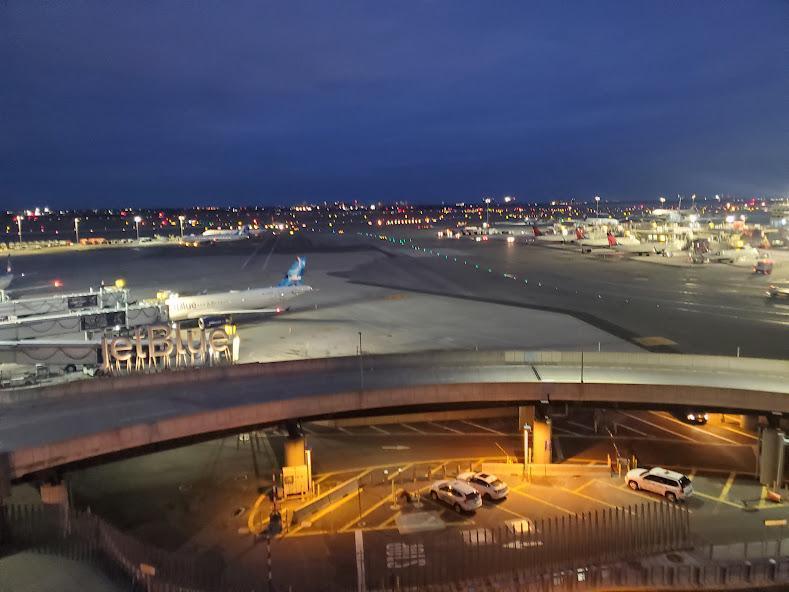 Other amenities include the Roll a Rama Skating Rink and the hotel gym that is 10,000 square ft and is the largest hotel fitness center in NYC. You can even take snapshots in an old time photo booth. The lobby even has a Classic Solari split-flap message board with an authentic original 8 mechanical operation manufactured in Udine Italy.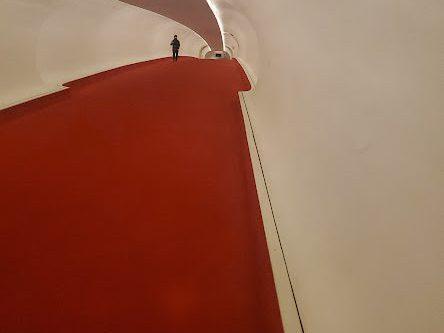 To complete the "walk back in time" there are 2 small vintage cars- a BMW and a Fiat just sitting there for photo ops. The walls tell the story of  Eero Sarineen and the TWA history.  Vintage posters, photos of celebrities and more.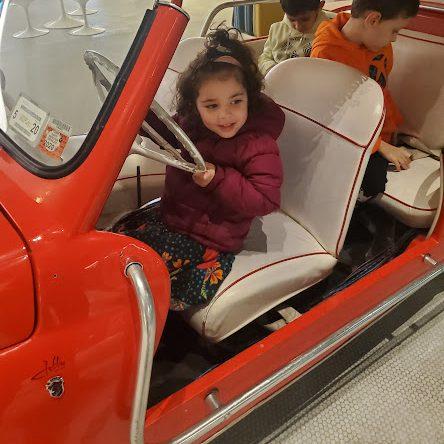 On the mezzanine there is a fabulous collection of TWA uniforms by great designers of the 1960s and 1970s.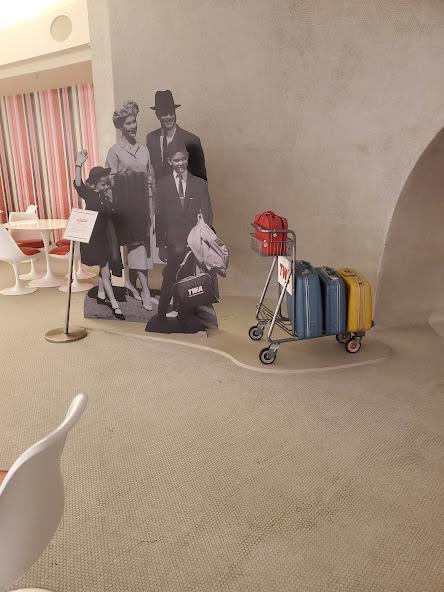 And then there are the rooms- There are 512 guest rooms. They offer overnight and "day tripper" stays. You can stay from 4 hours- overnight. They are set up for efficiency and comfort. The floor to ceiling windows are the second thickest in the world.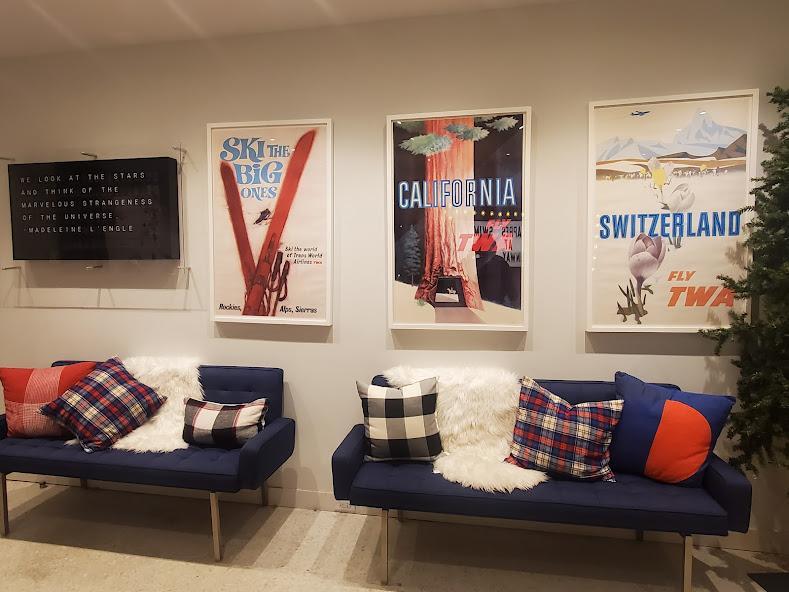 This blog was a great opportunity to share my experience at the TWA JFK Hotel. From the amazing room designs to the convenient location, my trip was a memorable one. Look forward to my next blog, where I'll be sharing stories and photos about my travels.
For inquiries and questions about tours ( In-person or Virtual ), you can send an email or call. Stay tuned for Susan's next new blog!