So I've been a docent at the Museum of the City of New York for many years. I became a docent when I realized after a difficult winter that I needed a destination at least once a week. As a fourth-grade student at P.S. 91, we visited the Museum when we studied NYC. I never forgot it and it became my favorite place. In the old days, the third floor was devoted to objects for children. There were cases and cases full of trains, dolls, dollhouses, and more.
The museum was founded in 1923 and was the first museum dedicated to the history of a U.S. city. It was housed in Gracie Mansion until 1935 when it outgrew the Mansion and NYC built the current neo-Georgian building. 
This year the museum is celebrating its centennial. The entire third floor is dedicated to it.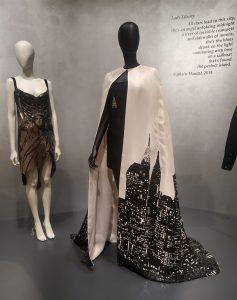 This is New York- 100 Years of the City in Art and Pop Culture. More than 400 objects tell the story of NYC through television, music, literature, visual arts, and more. The exhibition includes Edward Hopper paintings, Berenice Abbot's 1930s street photography, Carrie Bradshaw's tutu from Sex and the City, music, movies, and more.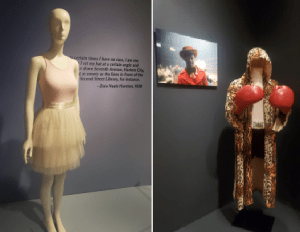 Here's Carrie's tutu and Robert De Niro's Boxing outfit from Raging Bull.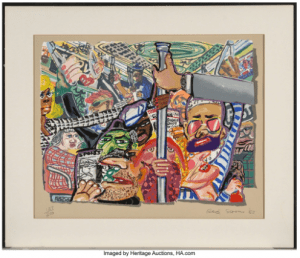 The art is fantastic! Here are  a few examples- Red Grooms - Grooms actually filled an entire 57 St Gallery with 3D papier mache versions of New York Imagery- taxis, miniature statues of liberty- subway cars, and more
As an adherent to the Ashcan School, his paintings focus on "real people" doing ordinary things.
Reginald Marsh is noted for his realistic depictions of NYC life. His focus was New Yorkers and the various classes interacting on the Streets of NYC. This included the neighborhoods-the people-subway-movie houses and chaotic crowds and more.
They have been collaborators for more than 30 years - producing fabulous life casts. This photo has the work in its original site in the East Bronx.
Cheyenne is the youngest artist featured in the exhibition and a Bronx native- She was born in 1994. She attended the Rhode Island School of Design. The painting is a depiction of a day at the beach complete with salsa. 
Jammin at the Savoy- A native of South Carolina Bearden came to NYC as a child during the end of the Harlem Renaissance in the 1920s. This is a collage depicting the world-famous Savoy Ballroom in Harlem.
Tar Beach is a fabulous story quilt created by Faith Ringgold-it was completed in 1988. It tells the story of Cassie Louise Lightfoot and her family enjoying an evening on "Tar Beach" - aka the roof of their apartment house. Growing up in the Bronx this was also something I experienced (pre-air conditioning) with my own family. Faith Ringgold went on to write several children's books and Cassie was the main character.
Music abounds from all 5 Boros- all you have to do is step on the spot that is designated The Bronx, Brooklyn, Manhattan, Queens, or Staten Island and you will hear a tune related to the boro. 
And then there are the movies….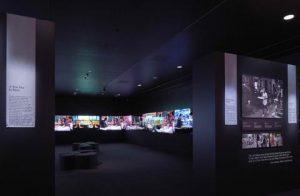 The exhibition is entitled "Scenes from the City" and it explores how New York has been used as a movie set for the past century. From silent films to "talkies" NYC has been a setting for the movies. There are 420 movies included- studio movies and independent films. Quite an array- you're sure to find your favorite among them. 
Enter the gallery and take a seat on a large cushion and enjoy the montage of over 100 films that are set in NYC. There are 16 screens and they include independent films, Hollywood blockbusters, documentaries, and experimental works. There are thousands of scenes and it is difficult to decide where to look first. The list is endless- it takes you from the late 19th century to the present. All genres are covered and here's a partial list
It is not in any particular order
What do you think is the most iconic NYC film?
So I have given you a "taste" of this amazing exhibition and strongly suggest that you get yourself to the Museum of the City of New York for an amazing experience! 
For inquiries and questions about tours ( In-person or Virtual ), you can send an email or call. Stay tuned for Susan's next new blog!