Christmas in NYC wouldn't be the same without all of the amazing trees surrounding the city and becoming a backdrop for photos seen across the world.  It started as a German tradition but has evolved NYC into a winter wonderland.
It might be late but still, Happy Holidays everyone! Join us in our Little Christmas Tree tour experience here in NYC! ????
To get started, let's share a bit of the history of the trees in NY:
Madison Square Park held the very first public tree lighting in 1912
The New York Stock Exchange had their first tree on Broad Street in 1923
In 1933 the construction workers building Rockefeller Center chipped in to buy a tree and celebrate as a thank you for having work during the Great Depression
Now let's start a Christmas Tree tour around NYC! We will start the walk on Park Ave at 42 St. and end it at 5st St and 5th Ave.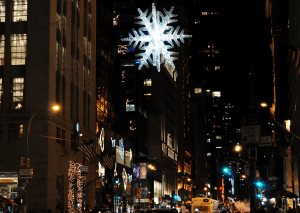 UNICEF Snowflake (Image by Ralph Daily Flickr.com)
As you end your walk going south on 5th Ave, I want to mention another of NYC's iconic Christmas decorations although it is not a tree. In the heart of the city at 57th st and 5th ave is the UNICEF Snowflake, which is a special symbol for the world's most vulnerable children.  The snowflake contains 16,000 crystal prisms, is 23 feet wide, over 28 feet tall, and weighs more than 3,300 pounds. It hangs each year as a reminder of UNICEF's commitment to reach a day when zero children die from preventable causes.
Stay tuned to see what happens next week as we explore the history of the New Year's Eve Ball Drop.  COVID, COVID, COVID has certainly turned many traditions upside down. Join us in our Virtual and In-Person Tour!
Enjoy the holiday stroll and let me know which ones you like the most! Leave your comments below ????