HAPPY NEW YEAR EVERYONE! We wish you a rocking Year. ????
Times Square has been having New Year's celebrations since 1904 when the New York Times moved uptown and opened its headquarters at what is now 1 Times Square. The original celebrations were lavish firework displays from the top of the building from 1904-1906 but stopped by city officials because of the danger of fire.  Fireworks are dirty and dangerous soooo the ball was substituted in 1907.  Jacob Starr designed it and it was 5 feet in diameter and weighed 700 pounds and was decorated with 100 light bulbs.  On that night in 1907, hundreds of thousands of people congregated to watch the ball being lowered on a pole atop the building, marking the start of the new year. 
The long tradition continues today. Since 1908, and for more than one hundred years thereafter, Times Square sign maker Artkraft Strauss has been responsible for the ball-lowering. FYI they were also responsible for the iconic "Camel" Man sign which had smoke coming out of his mouth and many others throughout Times Square. They were the kings of neon. (Fun SusanSez Fact: My Mom worked for them for many years!)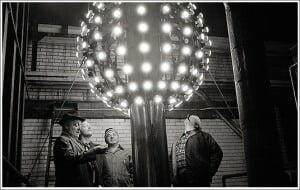 First New Years Ball in 1907 via Vintage Culture
The first ball, dropped on December 31, 1907, was made of wood and iron but it is now the famous Waterford Crystal 2014 NYE Ball to be feature new elements via Times Square you see today. On that night in 1907, hundreds of thousands of people congregate to watch the ball being lowered on a pole atop the building, marking the start of the new year.
Over the years the ball was tweaked and changed for various reasons. To celebrate the centennial of the ball drop, a new energy-efficient LED ball debuted to bring in 2008. Just one year later to bring in 2009 a larger ball was used and has become the permanent installation as a year-round attraction, used for celebrations such as Valentine's Day and Halloween.
NYE Ball 2008 which became shown to the public year-round via Times Square
On average, about one million revelers crowd Times Square for the New Year's Eve celebrations. However, for the millennium celebration on December 31, 1999, published reports stated approximately two million people overflowed Times Square, flowing from 6th Avenue to 8th Avenue and all the way back on Broadway and Seventh Avenues to 59th Street.
2007 celebrated 100 years since the first ball dropped and a new ball was designed by Waterford Crystal and Phillips Lighting. LEDs enabled the lights to change color. It became known as the centennial ball.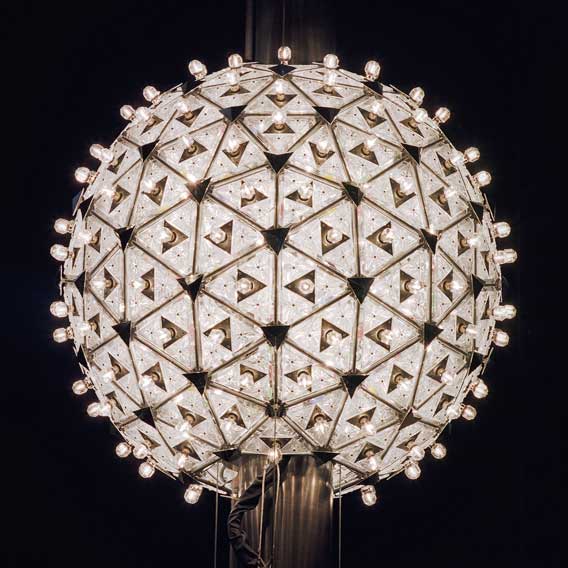 NYE Ball 2008 (photo by Times Square Ball)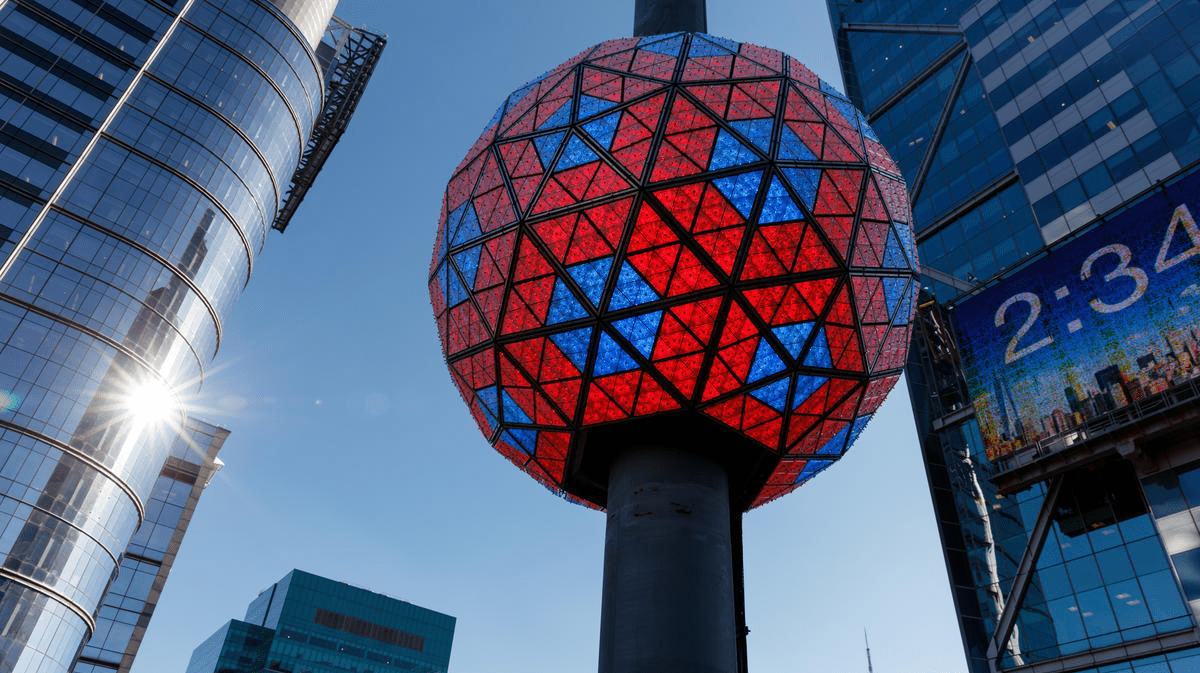 2021 NYE Ball (photo by Times Square ball)
Last year sadly Times Square was closed to the public due to CoVID. The ball received a facelift It was covered in 2,6888 Waterford crystals and 32,256 LED lights in 16 million vibrant colors. It weighs 11, 875 pounds.
This year the ball will be updated-it as part of Waterford's Gift of Wisdom design for 2022.
As of this writing, a press release indicates that due to the Omnicron surges in NYC the crowd will be greatly reduced. Instead of 58,000 people, it will be scaled back to 15,000. Proof of vaccination will be required for everyone over 5 years old and Masks will be required.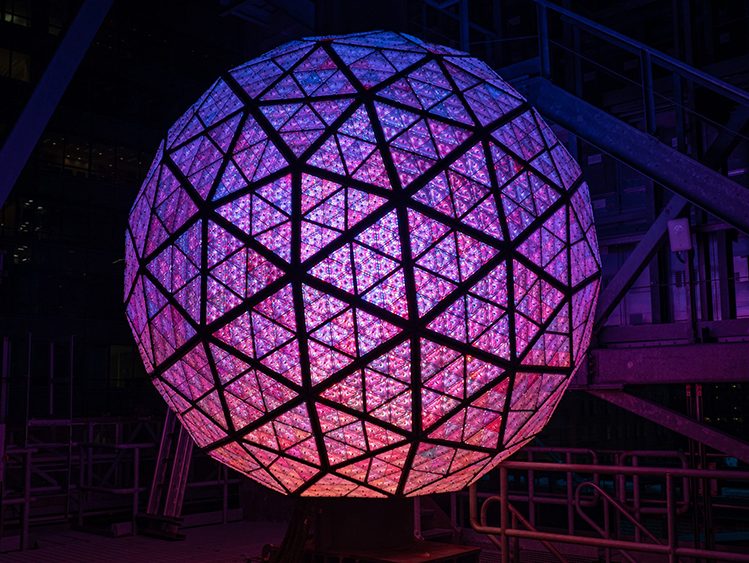 2022 NYE Ball (photo by Waterford)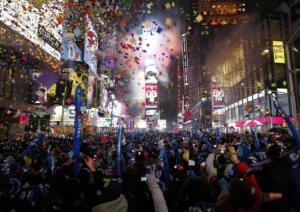 I made it down there once – mostly as a result of a dull party with a dull date. I organized a group and we made our way downtown to Times Square. It was fun and exciting and at 11:59 p.m., the Ball began its descent as thousands of voices united to countdown the final seconds of the old year. The most amazing part of it was how quickly the crowd scattered and within a few minutes, there was no sign of the festivities.
If you're interested Times Square Association has pulled together some fun facts about the ball, click here to see them!
I hope to see you this year of 2022! Subscribe to our mailing list and Share. ????